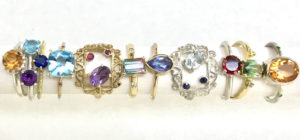 Designer 
Tomoko Kanashima
Tomoko is a designer of few words, but her fashion and fine jewelry creations–ranging from sophisticated funk to flat out elegant–speak parables if not tongues.
One can preview Tomoko's artistry, keen sense of design, balance and color with a glimpse of her personal fashion stylings. On any given day she can reflect the hues and textures of a tropical, desert, urban or celestial landscape. A mix of colors and shapes, coarse and delicately spun fibers, conflicting prints and complimentary ones form the carefree layers that drape her diminutive figure.
Tomoko's love for jewelry design traces back to a course in basic silversmithing in high school which she pursued through receiving a Bachelor of Fine Arts in metalsmithing and jewelry design from Maine College of Art in 1998.
Since graduating in 1998, Tomoko further studied the industry as Assistant Art Director at the contemporary American craft gallery, a buyer and Assistant Art Director and Designer at Dexterity (Montclair, New Jersey), and also as an assistant designer at New York Adorned (now Love Adorned) in East Village, NYC.
https://loveadorned.com/
Her work is definitely inspired by the toys and architecture she recalls from her world travel experiences." Tomoko, a former New Yorker now resides in Japan , was born in Osaka and grew up in Singapore, "I love clean geometric shapes and forms, and it definitely shows in my work. I am particularly inspired by designers Stephanie Briggs, Marya Dabrowski, Emily Keifer and Todd Reed.